Inkpad Notepad & To do list
Notepad App – Don't Forget Important Stuff Ever Again
If you want to keep a note of every important detail in a safe place on your phone then this notepad app is an ideal one for you. Inkpad Notepad & To Do List is a useful app that lets you jot down things you don't want to forget like class schedules and grocery lists. It makes it easy for you to remember tasks that you needed to do and also helps you in not forgetting important details. For instance, if you have a habit of forgetting the password of your email ID or any account, you can add it on a note and save it on the phone. You can easily access this note whenever you need to enter the password with the touch of a button.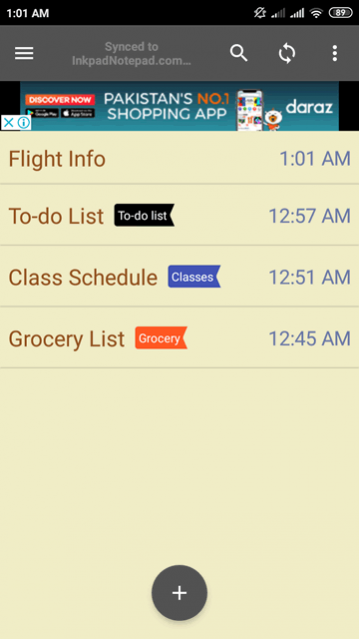 Inkpad Notepad & To Do List has a user-friendly interface that is easy to interact with. It feels exactly similar to a notepad that you use in your home. It has the same color tone and margins available that allow you to enter details or items systematically. The design and layout of this notepad app have been kept simple as well. So, navigating the app's feature isn't difficult at all. You will be asked to sign in using your Google ID at the beginning. This is done to sync all your notes to your Google account which can then be accessed on any of your devices. However, you can skip this step if you want. On the home screen, you will find a '+' icon. You need to click it to add a note.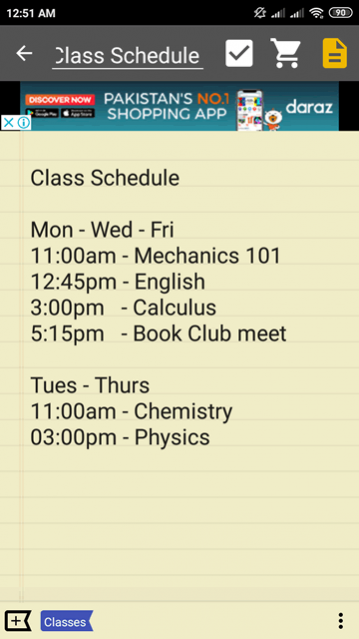 This notepad app lets you add notes of any kind. When you open a note, you will be asked to give it a title. This title will help you in identifying the note later on so make sure that you give the title to each of your notes. In the note's body, you can write down all the details that you want to remember. For instance, if it is the class schedule for your university or college, you can type it in and then click back. The note will automatically be saved. You won't have to click a button to save it. If you want to make any edits to the note, you can do it easily by clicking on its title from the home screen.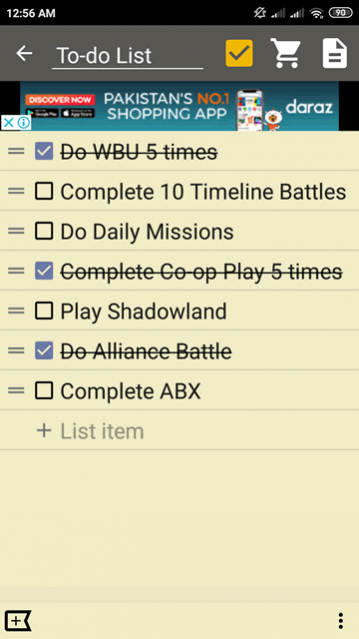 Inkpad Notepad & To Do List lets you convert any note into a to-do list with the tap of an icon. You will find this icon located at the top-right corner of the note's screen. When you tap it, the note will be converted instantly into a to-do list. You can cross out items from this list as and when you complete them. The to-do list will get updated each time you cross out an item from it. If you have a lot of notes saved it, you might find it difficult to find them. This is why there is a tag feature available which helps you in organizing your notes. You have the option available to save backups of your notes online too.
Features:
User-friendly interface
Simple design and layout
Add notes and edit them later
Give a title to your notes
Create to-do lists by adding items
Cross out items after completing them
Automatic saving of notes in the desired location
Syncs the notes across all devices
Save backups of your notes online
Option to add tags to notes
Multiple notepad themes available
Conclusion:
Inkpad Notepad & To Do List is an app that is aimed towards people who have a hard time remembering things. It provides them a convenient way of writing down things that they need to remember or tasks that they need to do during a day. It is an excellent notepad app and you should have it on your phone.
---
Add a review
Tell us your experience with
Inkpad Notepad & To do list
RELATED PROGRAMS
Our Recommendations
---
---
---
---